The cheese sticks that you can find in the offer of the Galicia artisan bakery are nothing more than crispy, incredibly tasty sticks with the addition of wheat leaven and butter, sprinkled with high-quality Gouda ripening cheese. Among the advantages of this product, it is worth mentioning the low sugar content, high protein content and the phenomenal composition that does not contain preservatives. Cheese sticks, or rather - Captain's Sticks flavored with Gouda cheese - can be successfully eaten by people on a vegetarian diet. This crispy, ruddy and baked with butter product is a proposition that will appeal to even the most demanding palates. What to serve cheese sticks with to make them taste even better? Here are our suggestions!
Captain's cheese sticks as an addition to tomato cream

Delicious, warming and incredibly aromatic tomato cream is a soup that everyone loves. It works both in summer and in winter. It is light, but filling, and served with a splash of sour cream and Galicia cheese sticks - it tastes captivatingly good. Its preparation will take you only a moment and even the greatest kitchen laymen will be able to handle it.
If you are not a fan of tomatoes, cheese sticks are also suitable for:
onion cream,
cream of white vegetables,
broccoli cream.
Cheese sticks with camembert and cranberries

Camembert fondue is a perfect proposition for all those who love cheesy cheese. In combination with Captain Sticks - they are an explosion of cheese flavor. To break it and add a little spice, we recommend also getting a small amount of good - preferably homemade - cranberry jam, which will break the intensity of the cheese and add an unusual twist to this combination. Preparing a dish is very easy. All you have to do is cut off the top of the Camembert and put it in a heat-resistant dish for a maximum of 5 minutes in an oven heated at 180 degrees Celsius. When the cheese is melted, put it on the table and dip the cheese sticks in it and in the cranberries (alternately). We guarantee - it will be delicious! It is the perfect snack for a movie or series.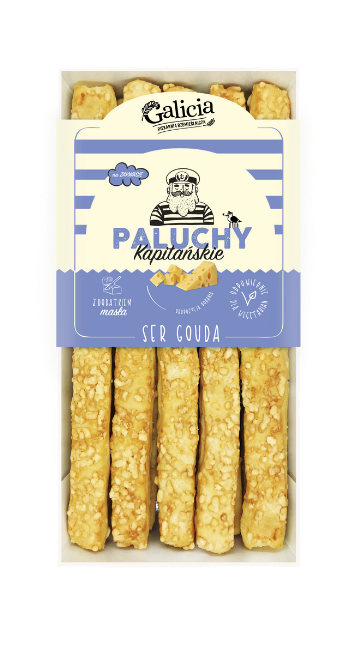 Cheese sticks to complement the cold cuts board

The board of cold meats and cheeses is a great proposition for family gatherings and evenings with friends. The snacks placed on it will not clog the stomachs of guests, just like a classic dish (e.g. pasta), and will allow you to snack on small portions during long hours of talks, watching a movie or board games together. Such a board should include high-quality cold cuts (Parma ham, salami, kabanos), various types of cheeses (camembert, blue cheese, classic gouda, mozzarella balls, cheese with nuts or pesto), fruit (e.g. grape), and also a crunchy side dish in the form of cheese sticks. Cheese Paluchy Kapitańskie is a bull's eye. They fit perfectly into such a combination. If you want to go crazy and increase the amount of ingredients on your board - also add olives, dried fruit, nuts, honey and hummus.
Cheese sticks in Parma ham with garlic sauce

A quick snack that fans of garlic sauce will love. To prepare it, you only need mayonnaise (4 tablespoons), yogurt (4 tablespoons), fresh and pressed garlic (5 cloves), salt and pepper to taste. All ingredients should be thoroughly mixed with each other and served to your guests with cheese sticks wrapped in slices of good Parma ham. This combination tastes really delicious!